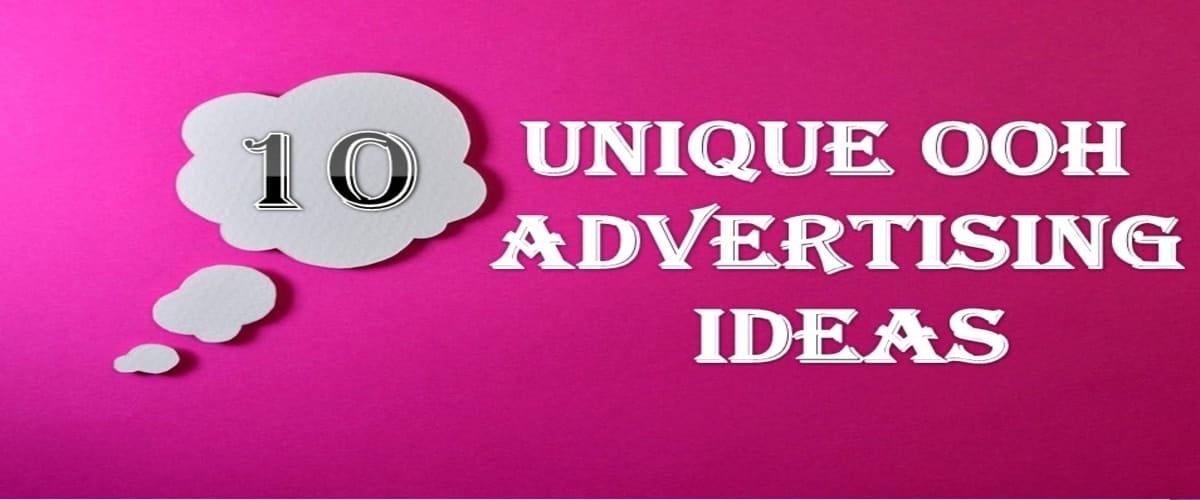 10 Unique OOH Advertising Ideas for Brand Awareness
Out Of Home or the OOH advertising media is all about marketing products or services to the consumers as they are on the go. The term OOH seems like a new one; however, the concept goes back to the 1800s. From big posters outside the shops to get customer's attention to wooing them by life-size wallscapes, OOH advertising ideas have revolutionized the marketing industry.
Media marketing strategies revolve around different objectives. These can be anything from building brand awareness, sparking engagement, and interest to build advocacy and loyalty. OOH advertising can take numerous forms to serve different objectives.
In this article, we will discuss ten Out Of Home marketing ideas that help you build brand awareness.
Ten OOH Advertising Ideas to Build Brand Awareness Effectively
Gone are the days when billboards were only seen attached to the gigantic poles alongside the streets. Those billboards were highly expensive, and with increasing clutter, the visibility and recall were getting lower. As a result, the ROI was decreasing, and the marketers were concerned.
To get better reach smartly, marketers have advanced their advertising game. They have come up with several OOH advertising ideas that we will discuss further. There are many varieties in the OOH advertising now, out of which we have gathered ten ideas to highlight in this blog.
1. Billboard Bicycles
Traditional billboards were placed in a fixed location and were subjected to getting ignored as the vehicles rushed through the roads. Those were highly expensive and had a concise exposure span. Billboard bicycles emerged as an incredible solution for marketers to put their ads out there.
Imagine a movable billboard that can ride around the town, reaching more people, and turning more eyeballs. It is an innovative and noteworthy way of advertising that small and large businesses are preferring alike.

2. Wallscapes
Talk about ads that not only impress but stop you in your tracks. Wallscapes have been one of the most spectacular OOH advertising ideas that can create a magnificent impact.
These are either painted on building walls as murals or visible in the form of billboards placed upon the same walls. Big brands prefer wallscapes to create grand statements. They have abundant room for creativity and inventiveness.
We have gathered some of the most intriguing wallscapes that left us in awe. And we are sure that these will leave you inspired too. These billboard design samples can help you spark creativity and deliver something of value to the customers and, eventually, your company.
3. Inflatable Billboards
Inflatable billboards are the most innovative type of guerilla marketing. These are like gigantic balloons with advertisements placed on them. Some companies also get them made in customized shapes, for instance, their mascots. The beauty of these inflatable billboards lies in two things;
The inflatable billboards have a surprise element for children and grownups alike. These can be used for a variety of purposes, from outdoor ads for entertainment events to corporate advertisements.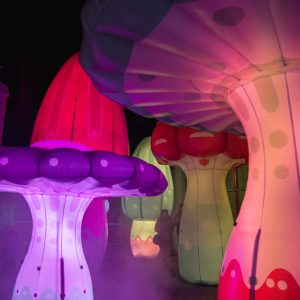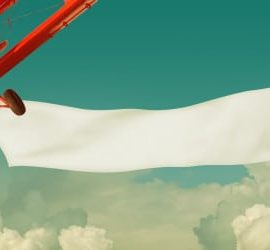 4. Aircraft Advertising
If you want to advertise your company in style and leave an impression that hits the bull's eye, then aircraft advertising is for you. It exponentially boosts your brand image in the mind of the target audience and upgrades your marketing game.
Many big companies use Flogos (floating logos that are made of foam) attached to the airplanes that fly along with it catching the audience's attention. You can also use it as a teaser in your billboard campaign.
5. Bus Advertising
This is one of the common OOH advertising ideas that you must have seen around. Bus advertising is not a new concept. Companies have been using it to build brand awareness around an area the bus moves.
You can choose the buses that move around in the geographic area where your target audience is present. It increases your brand's visibility by constantly moving around those areas, becoming a repetitive reminder for the audience.
There are two options with bus advertising; exterior and interior. You can choose it according to the audience you are trying to target. For instance, if they belong to the demographic segment that travels through buses, then interior bus ads are your best bet.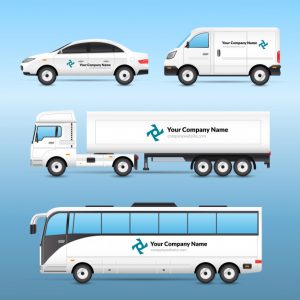 6. Street Advertising
Besides the billboards that stand out, street advertising is the best way to get your customer's attention. Imagine a gutter hole with a straw in it and an ad that says, "57% people in Ethiopia drink water that is as dirty as this."
Such ads can be striking and hit the audience in a very unusual way. As OOH advertising ideas commonly use spaces that are upwards or on a wall, seeing ads on the street can break the clutter.
7. Human Billboards
Billboard advertising strategy is most effective when the exposure is not only higher but longer for the audience. And that is the one benefit that human billboards can provide at best.
It is a human habit that when text appears in front of them, they tend to read it. Especially when someone is walking in front of you with a shirt that has text on it, you make a modest effort to read what's there.
Just like that, a human billboard proves to be quite effective as people notice and eventually read what's on it. There are people who provide services to wear the billboard on their shoulders and move around.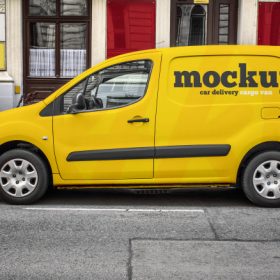 8. Automobile Advertising
Automobile advertising is another way to spread the word around and market your event. Cabs and other cars can be rented for wrapping too. Wrapping is the procedure of placing ads on automobiles.
It is an easy way to attain higher exposure and can provide great results if your company wants to reach the masses. For instance, if you own a mortgage company, you can use billboard ideas like these for brand awareness among the masses.
9. Bus Stop Advertising
Bus stops are that one place people spend most of their time. According to a survey, people in the U.S. who use buses to commute, spend 40 minutes of their time at bus stops.
And what can be better than availing those 40 minutes to advertise your brand to the customers? Many inventive companies have used the opportunity to formulate ads that grab commuters' attention and engages them effectively.
Here are some of the OOH advertising ideas that we loved the most.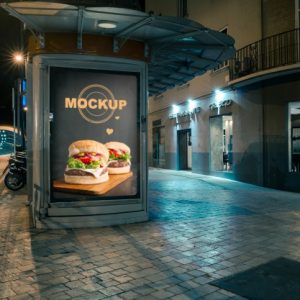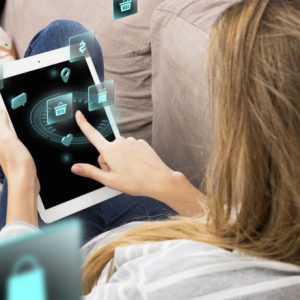 10. Programmatic DOOH
With the world advancing towards digital, creativity is not the only tool in the hands of marketers. They combine it with technology to create campaigns that result in advertising breakthroughs.
Forward-thinking companies like Foodora are using pDOOH to provide the ultimate experience to the customers. What they have done with this technology can be termed as the best example of interactive digital media in USA.
Due to involvement in the experience, pDOOH has more than 80% recall rate among the people who got engaged with it in the past month.
Conclusion
The market is full of competition, no matter which industry you are in. Customers get flooded with tons of advertising every day. While the attention span and retention rate is decreasing with digital advancement and the clutter, it has become highly crucial to stand out from this crowd. And for that, advertisers need to become more inventive, combining creativity, mobility, and technology to upgrade their marketing game.
Companies that understand the power of innovative OOH advertising ideas invest in hiring creative media agencies that can help achieve their goals.